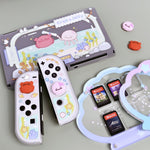 During GeekShare Summer Sale, Follow Us To Go To The Beach
The GeekShare Summer Sale has started and will end on the 15th and discounts up to 50% off. And with so many new products recently added to GeekShare, it's the perfect time to get your hands on new arrival at low prices.
If you haven't thought about which ones to buy yet, you can check out the new arrival below.
🦪GeekShare Illumination Seashell Game Card Case
This game card case will definitely capture your heart, if not, take a second look~ the middle part displays your game cards and can hold up to 8 game cards. The border part is blue to purple color, and the transition in the middle is very natural, the gradient effect is always very dreamy. And the transparent part in the middle has some embellishments, we imitated the pattern of scallops, starting from the bottom and radiating all over the body, the stars at the top look like exploding fireworks.
Plus, it's magnetic, making it easy for you to save/pick up your game cards.
🦀🦑GeekShare Crab&Jellyfish Protective Case
GeekShare Crab&Jellyfish Protective Case comes in 2 versions, NS and OLED version。
This Crab&Jellyfish Protective Case is transparent, adding more color to the Switch console without hiding its original look.
Just follow the crab and jellyfish dive into the sea world, this does not seem to be a peaceful scene, the eye-catching is a fish hook, here is about to usher in a "war". They certainly won't take the bait easily and become human food. Crab and jellyfish are discussing how to deal with the situation, while jellyfish have no brain physically, so they can only be the assistant to convey information, while there are a group of birds at sea to inform them, the crab can only be the decision maker. This time, will they save the day?
🦀🦑GeekShare Crab Thumb Grip Caps
The red crab leader and the pink jellyfish assistant are sure to make a difference~ GeekShare has rounded off all the sharp points, which makes them look even cuter and also ensures that grip provides great touch in the user's hand.
🌈GeekShare Rainbow Cloud Thumb Grips Storage Box
The storage box can hold about 16 thumb grip caps. Basically, it can satisfy most gamers, but if you are a maniac for grips, just one box may not satisfy your needs.
The simple design is inspired by the shape of a rainbow, but the colors we didn't exactly replicate because we thought some of the colors might be a bit jarring, so GeekShare goes with varying degrees of pink anyway. The two mini clouds at both ends not only make the overall look more coordinated but also enable it to stay firmly on your table.
🌈GeekShare Rainbow Thumb Grip Caps
GeekShare collab with Vanessa M. Norris artist to create these grips, and we're donating 15% of our sales to charity.
There are 4 colors inside a set, pink, blue, purple, and green which should go with any protective case.