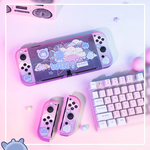 Don't Miss The Time-limited Discounts For GeekShare New Arrivals(9.7 - 9.9)
Recently, GeekShare has launched some new products, and to celebrate their arrival, we are about to launch a limited-time discount event, 🔗from 9.7 to 9.9, you come to GeekShare to buy any of the following products with code "NEW", you will enjoy 15% off.
Protective Cases For Switch OLED
🔗GeekShare Yogurt Cat Protective Case for Switch OLED
Inspired by the yogurt case, the blue and white color gives a fresh feeling, and the kitty adds a sense of cuteness. You can see a sipping yogurt kitty boss waiting for your arrival.
🔗GeekShare Bomb Bear Protective Case for Switch OLED
The pink and purple color clash design is full of mystery, and the pattern is as the name suggests, a bear with a protective case that managed to survive the explosion. Hoping this can also bring you a stroke of good luck, and win every time during games.
🔗GeekShare Moon Exploration Protective Case for Switch OLED
While the first two are full of cute elements, this Moon Exploration Protective Case is full of sci-fi elements. If you are a science fan, then this is the best one for you, and the simple color makes it very versatile. In addition, we also launched a set, which is a protective case and a Switch OLED carrying case, carrying case is silver, simple but special, although no exaggerated design, but enough to make it unique.
Carrying Cases For Switch&OLED
🔗GeekShare Blue Beary Carrying Case for Switch&OLED
We struggled with the name when it was debuted, but a fan suggested it can be called "Blue Beary", which we eventually adopted and gave the bag to the fan who named it as a token of our appreciation. So whenever a new product is launched, you can go to our 🔗Ins (geekshareplus) and comment with a creative name, and once we adopt it, we will give you a gift to show our appreciation.
Thumb Grips Storage Box
🔗GeekShare Rainbow Cloud Thumb Grips Storage Box
This is designed for those fans who love to collect thumb caps. Too many thumb caps lying around are likely to lose some of them, so this Rainbow Cloud Thumb Grips Storage Box can help you store your thumb caps for good. It can hold about 16 caps, which is very practical.
If any of the above products are to your liking, you can come to GeekShare to buy them right now, you won't want to miss out on 15% off!