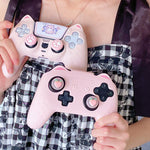 Super Cute GeekShare Catroller PS5/NS Pro Skin
Super Cute GeekShare Catroller PS5/NS Pro Skin
If you're a fan of GeekShare, then you should know that we are animal lovers, and kitty is one of our favorites. Now we've released 🔗Catroller PS5/NS PRO Skin, so those of you who own PS5 and NS Pro can check it out.

GeekShare Catroller PS5 Skin
The whole thing is pink, which is a fatal attraction for pink lovers. In addition, there are 2 cat ears on the top of the handle, and the middle pattern is a small kitty looking at you in front of the screen, inviting you to play the game. With the purchase of this skin, we will also give you two cute cat paw thumb caps.
GeekShare Catroller NS PRO Skin
Similar to PS5 Skin, but instead of a pattern in the middle, there is a 3D kitty face, and the included thumb caps are not kitty paws, but small peaches. The skin is made of high-quality silicone, which can not only keep your controller safe but also provides a better touch and is ergonomic. The surface is designed with small grooves to optimize airflow, keep your hands dry, prevent slippage, and bring you a better gaming experience. 
Fans who have already purchased have also given good feedback.If this is what you like, you can come to GeekShare to check it out