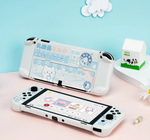 Yogurt Cat Is Waiting For You To Take It Home
With more and more users of the Switch, GeekShare, as an original product accessory, is designing more and more Switch cases with different elements. If you like kitties, then the GeekShare Yogurt Cat Protective Case for Switch OLED may be your type.
By the way, the case is only available for OLED, some fans are also asking if it can be launched for the regular Switch, this is still unknown, but once we decide to produce it, we will also post news on SNS. If you follow us on 🔗Twitter(geekshareplus) or 🔗Ins(geekshareplus), you will know the latest info. 
The Yogurt Cat case is blue and white, inspired by a yogurt box, with a traditional shop in the lower part, where a kitty boss drinks yogurt and expects customers to arrive.
This case is made of high quality PC material, which is sturdy and wearable to protect your Switch OLED from any scratches and splashing. And, if you want to watch movies on your Swtch OLED, the openable back panel bracket design of this case can also free your hands.
In addition, the soft touch can ensure you have a better gaming experience. GeekShare released a related video on INS, you can 🔗click here to view it, you can know more about this Switch OLED case.
The Yogurt Cat Protective Case for regular Switch is not yet available, so those who have the regular Switch can check out the other cases on GeekShare.