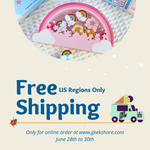 Time-limited Free shipping Service, For US Regions Only
GeekShare has recently released many new products with generous discounts, but we still want to offer more to our fans. Now we're offering a free-shipping service for a limited time!
Duration: June 28th to 30th
Region: US regions only
What's on offer: Buy any one item from 🌈GeekShare's Official Site🌈, and you can enjoy free shipping service
In June, two versions of GeekShare's Star Wings collection are already available.
Note: Today, the GeekShare x Vanessa M. Norris artist collaboration collection will be released, stay tuned!
Although we offer discounts on new products, the cost of shipping may be a reason for many customers to hesitate to buy, so to provide a more cost-effective deal, free shipping may be a good idea in addition to discounts.
If you have a fancy item, buying it between the 28th and 30th is the best choice!