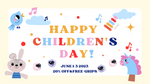 "Hope every day was Children's Day" Is The Greatest Wish Ever
Without children, the world would be devoid of sunshine, laughter, and love.
Children's Day is coming, and GeekShare has prepared a surprise for you. 💝💎From June 1st to 3rd, all products are 20% off.💝💎
And if you buy from 🔗GeekShare official site, we will send you a freebie, a set of thumb grips as shown in the picture below.
For us, children are not just about age, but we hope that everyone has a childlike heart, as long as you love life enough and pursue happiness, you can be as pure as children.
Happy Children's Day~🥳🥳