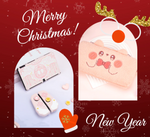 GeekShare Christmas Gift Guide 3.0
GeekShare's Christmas sale will run until December 31st, during which time you can get 20% off when you buy our Christmas sets. And many of GeekShare's popular products are now back in stock, such as the 💝💝Play Game Bag, Game Girl Bag, Plush Bunny Bag, and Max Bag, any of which can be purchased with the sets, which will be a great deal.💝💝 Today's sets are listed below.
Star Wings Protective Case
Who doesn't like creamy pink? Because of the strong demand from fans, GeekShare has released an all-pink protective case, and it comes in OLED and regular Switch versions. Because the color is not very complex, we need to spend more time on the pattern to make it perfect. There are 3D wings on the handle, which not only make it look cuter but also have a non-slip effect to ensure you have a good touch feel.
Cream Heart Caps
The pink and yellow thumb grips echo the protective case of Star Wings like they were meant to be together. So match!
Jo Jo Paw Protective Case
The Jo Jo Paw series is also a popular GeekShare product, with brown and yellow as the main colors, without too many elements, but the finishing point is the two 3D pink cat paws on the handle, which are way too cute.
Jo Jo Paw Carrying Bag
It is also fluffy and from a distance, it looks like a small kitty that is sleeping. We matched it with a slanting shoulder strap that you can adjust to a length that best suits your needs. And cut inside there are three pockets for your phone, charger, Switch, etc. This will help you store some odds and ends very well.