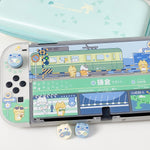 Grap Your NS, Follow Kitty To Start A Travel
🐱GeekShare Travel Cat Protective Case for Switch OLED
This case is only available for Switch OLED. The story is set in Kamakura Japan, because Enoshima Electric Railway is a famous train connecting Kamakura and Fujisawa, which shows a great journey with gorgeous scenery. The tram and the driveway run parallel to the sea, so you can appreciate the sea clearly, and the kitties are about to start their journey, a combination of reality and fantasy, if there is a kitty planet, perhaps their life is also like this leisurely.
🐱GeekShare Game Cat Thumb Grip Caps
When cats get bored on the go, playing games is the best way to kill the time. Even cats have their exclusive Switch! White and blue cats are a perfect match for the GeekShare Travel Cat Protective Case!
🐸GeekShare Matcha Froggy Protective Case for Nintendo Switch
Green, Green, Still Green. Everything is full of energy. The GeekShare Matcha Froggy Protective Case is now in stock.
Based on the fact that there are many kinds of green, GeekShare chose light green, like the color of grass just growing, feeling vibrant.
The main element is the frog dessert master, good at making macarons, cakes, and matcha rolls, they are looking forward to your feedback after tasting their masterpiece!
🐸GeekShare Froggy Thumb Grip Caps
A set contains four grip caps, two froggy caps, and two Axolotl caps. To echo the original color of the Switch, the Froggy Thumb Grip Caps are blue-green, and to add a sense of cuteness, we also designed pink blushes for it. And as for Axolotl caps, we use pink, which restores the color of the Axolotl in reality as much as possible.