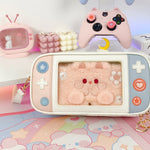 GeekShare Switch Game Girl Bag is definitely worth Getting
GeekShare is offering a generic 10% off discount code, you can 🍀get 10% off when you use the "GEEKSHARE10" discount code🍀 at checkout on the GeekShare Official Site.
🔗GeekShare Play Game Crossbody Bag
The design is inspired by the Switch, with the handle on both sides and the "screen" in the middle, which can be a great way to display your Switch protective case. In addition, you can also use it as a normal purse.
🔗GeekShare Game Girl Crossbody Bag - 3 Colors
Game Girl Bag is now enjoying 20% off automatically. You can get it at a lower price without using any discount code.
It's not new arrival, but always been a hot sale on GeekShare, and the pink version is often out of stock, but now three color versions are all available.
You can take it out as a purse bag, or you can use it for Switch only, but you need to remove the Switch handle to fit it in. The space is not particularly large, but holding a Switch is also enough, which is compact and practical.