GeekShare Color Contrast Crossbody Bag - Innovator Arises
GeekShare has released several popular crossbody bags, such as the 🔗Game Girl and Play Game, even if you don't have a Switch, you can take them out as a normal bag.
The latest 🔗GeekShare Innovator bag is a crossbody bag with a large capacity to hold a Mackbook, making your daily life even more convenient.
The black color can match any of your hoodies, and the external multi-pocket separator design brings you convenience and can hold more odds and ends, cell phones, Switch handles and USB cables, Air Pods, etc. The zipper can protect them well from being lost. In addition, there is a GeekShare special custom embroidered label that can make your bag stand out from others.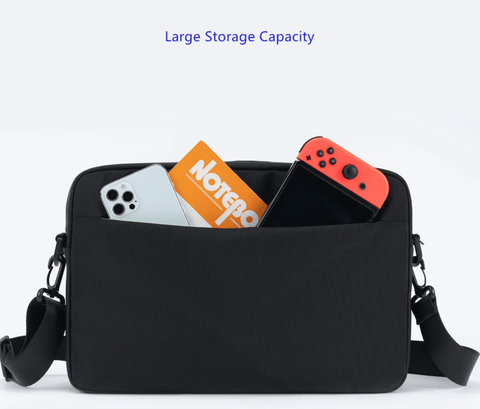 The portable large-capacity compartment on the back makes it easy for you to store/take out things and can free your hands.
We use waterproof hard cloth and PU material, so it has protection and storage function, you can even use it on rainy days, which can effectively protect your things from getting wet by the rain (not including soaking in water). There is a cotton sheet inside, which effectively improves the capability of shock and fall resistance. Wide shoulder straps are ergonomic, able to reduce the load scientifically, and comfortable to carry.
In short, this is a crossbody bag that takes into account high ornamental value and high practicality. You can carry anything you need when you go out with it.