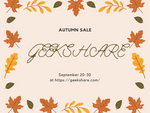 Summer Is Over But GeekShare Autumn Sale Have Just Begun!
GeekShare's Autumn Sale is about to ⚡start on the 20th and will last for 10 days, ending on the 30th, with up to 50% off waiting for you ⚡~ you can take advantage of the sale to buy GeekShare new arrivals or classic products.
🐱GeekShare Catroller Xbox Skin
There are currently four colors to choose from, pink, blue, green, and gray.
As for the shape, it's lovely as always. If you're a fan of GeekShare, then you know that we always use cute animals as inspiration to create attractive products.
The name "Catroller" was offered by our fans. As the name suggests, it is inspired by a kitten, with two kitty ears to show how cute it is, and we made reasonable use of the middle button layout to design a cute kitten face.
There are kitten footprints at the hand part, which is not only for aesthetics but also to play the role of anti-slip, which can ensure you have a good gaming experience.
Note: Buy XBOX Skin now, the product will come with a pair of joystick caps for free(as shown in the picture).
🐻GeekShare Sugar Bear NS Pro Skin
GeekShare ushered a new product for NS Pro! GeekShare Sugar Bear NS Pro Skin is also added to the GeekShare Autumn sale, if you are looking for suitable accessories for your NS Pro, check this on GeekShare!
The GeekShare Sugar Bear NS Pro Skin is a new arrival, but more products from the same collection of Sugar Bear will be released later, so stay tuned. The skin is available in 5 colors, pink, brown, turquoise, purple, and black, and with the purchase of the skin, you get a free sticker, and two thumb grip caps, which means you get a full set of NS Pro accessories, you can DIY your own NS Pro with the sticker.
GeekShare's products have always sought to balance aesthetics and practicality, and this Sugar Bear NS Pro Skin is no exception, with 3D bear ears on the exterior to grab your sight at first glance. And according to the distribution of the middle buttons, we reasonably utilize and design a bear face. On the part of the holding part, we use various shapes of grooves to increase the friction, so that it is not easy to slip from your hands, and the two raised paws on the back are designed for the same purpose.