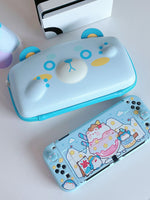 More Switch Carrying Cases Are Coming Soon
GeekShare.com releases new products regularly, and now the
🔗Calico Cat Carrying Case for Switch and OLED is available.
It is composed of three different colors, with a cute cat's face in the middle and 3D cat paws around it. The white eyebrows give the kitten's face a vivid expression, as if it is looking at you in a glowing way and expecting you to open it. In addition, it also comes with 2 small silicone ears, which are well fixed and not easy to fall off.
The internal space is also ample, with 10 built-in game card slots, allowing you to carry your favorite games (Size: 260*130*66mm).
The zipper head is cat-tailed, beautiful and practical. And this bag comes with a detachable wrist strap that is soft and comfortable, allowing you to carry it with you. The high-quality PU material ensures a smooth matte touch and protects the Switch from water splashes and is easy to clean. The interior is made of velvet material to protect your Switch from scratches.
In addition to this Switch Carrying Case, GeekShare will also launch two new Switch cases. one is the Mr. Bear series, the other has not yet announced the name, but after the release of some images, there are already fans called it 'Blue Beary'.
Mr. Bear Switch Carrying Case is relatively simple, the main color is white, and only a 3D bear face on it, blue zipper as an accent. If you do not like too many patterns, then this is the most suitable for you.
This "Blue Beary" Switch Carrying Case has more elements, the overall shape is a bear, and the round ears not only look cute, but also very practical, can be fixed as a stand.
If you are interested in the Switch Carrying Cases, you can subscribe to GeekShare.Com or follow us on Twitter and Ins, we will keep you updated with related information.