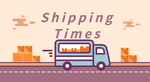 GeekShare Shipping Announcement
GeekShare wishes everyone a happy new year and thanks to our fans for accompanying us through another year we have gained more new fans, and we will be committed to providing better products and more quality services to our customers in the future.
We have always prided ourselves on quickly processing orders and finding the right balance between the cost of shipping and timely delivery.
But since we have the holidays coming up, there will be a delay in shipping, so if you have products you like, you can place your order in the next few days and we will ship them as soon as possible.
And to celebrate the Year of the Rabbit, GeekShare will start a sale event, so you can enjoy 20% off on all bunny-related products. and the specific details of the event will be released tomorrow, so please stay tuned!