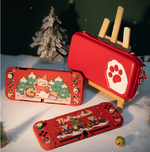 GeekShare Christmas Gift Guide 2022
December has begun, can Christmas be far behind? If you're looking for a suitable gift for Christmas, come to GeekShare! You can find affordable, but very special gifts here. To cater to the Christmas vibes, GeekShare has also released some Christmas-themed products.
 🎄🎄🎄🎄🎄🎀🎀🎄🎄🎄🎄🎄🎀🎀🎄🎄🎄🎄🎄🎀🎀🎄🎄🎄🎄🎄
🔗GeekShare Snow Christmas Protective Case for Switch OLED
When it comes to Christmas, the colors that represent it are of course red and green, so we are also using these two colors as the main colors of the case. The red background color complements the green Christmas tree, and for the northern hemisphere countries, snowmen are another essential part, so we put on hats and scarves for the snowmen, as well as gingerbread men.
🔗GeekShare Nutcracker Protective Case
When speaking of the Nutcracker, the first thing that comes to mind may be Tchaikovsky's classic ballet, but in fact, a traditional German handicraft is also called the Nutcracker, and this wooden doll is one of the most popular gifts at Christmas. We've changed these images by replacing the people with cute bears, which adds to the dreamy atmosphere of Christmas.
🔗GeekShare Christmas Grip Caps
The base color is also green and red, but the surface is decorated with white to show the pattern, one is in the shape of a snowflake, the other is part of a Christmas tree, and we cut out a part that looks like the antlers of a Christmas deer, which means there will be a surprise coming.
🔗GeekShare Rainbow Cloud Thumb Grips Storage Box
This one was sold out when it debuted, but it's finally been restocked for Christmas. The storage box can hold about 16 thumb grip caps. Take this rainbow home now and let it decorate your desk.