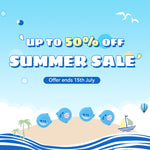 GeekShare Burning Hot Summer Sales Are Heading Your Way!
GeekShare's Summer Sale is on~ This year, Summer Sale runs from July 11 to 15, and is up to 50% off!!! It's the best time for you to grab this great deal.
When it comes to GeekShare, many fans have the impression that it's "cute", but we're more than that. As a professional gaming accessories brand, we try to make every customer satisfied, both in terms of product and service.
🔗GeekShare's official website services are still being optimized, but the following two should be of most interest to our fans.
✨Free Shipping for over $40
You can enjoy the free-shipping service if you purchase over $40 from our official site. So if you have products you like, it's a good deal to buy them at once, the total prices seem to easily be over $40, which will save you a significant amount of money on shipping while getting what you like. During the Summer Sale, you will get more of what you need.
✨6-month Replacement Service
If you have purchased products (limited to Switch cases and thumb grips) from GeekShare's official website, you will be able to enjoy a 6-month replacement service, which means that during this period, if your purchased Switch cases and thumb grips have quality problems, such as fading, abrasion, cracking, etc., you can contact our website directly and we will provide replacement service for you (One-time exchange).
If the exchange product is no longer available, you can choose the same-value product or a low-priced product.
We are committed to providing our customers with more perfect service and a better shopping experience. We will continue to work on this and build a greater GeekShare in the future.
This time, just enjoy the great Summer Sale we offer.